Lip care products always make space in my 'to buy' list. Forest essentials being one of my favourite brands, for luxurious Ayurvedic products, I wanted to try this range for a long time.
If you have seen my birthday video on YouTube, you know this lip balm in a gift from my lovely sister. ❤
While my sister's gift won my heart, let's see whether this lip balm won or not..!!
Brand: Forest Essentials
Price: 695 INR for 4g 0r 0.14 oz
Shel life: 23 Months. Once opened 6 months.!
Ingredients:
Only Key Ingredients List is displayed not the entire list of ingredients.
Cruelty free? Yessss
Recyclable? Yessss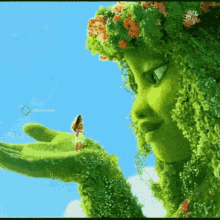 Packing:
Hexagonal Outer Carton looks like this.
It has these rose prints on it. Blue & red combo looks pretty. It also has all the details about the
product mentioned on it.
Oval shaped sturdy plastic Container contains the actual product.
Name of product and quantity are mentioned on the bottom of it. Gold lid & transparent jar looks Cute. Brand name is printed on lid.
Best part about the packing is it come with a mirror. How cool is that..!! It is pretty compact hence can be carried around easily.
Colour: Pretty Coral coloured balm looks so pretty.
Fragrance: It has strong smell of Gulkhand.
Texture: Light weight texture. Doesn't feel heavy on lips.
My Experience: To begin with, I have very dry lips. That need lot of hydration. Since I loved some products from this brand in the past, I had lot of expectations from this one.

Let me start with the fragrance first. This aroma of Gulkhand stays for a while post application.Plus, I am not a fan of Gulkhand smell. So the smell is very bothering.

It is light weight on lips. Doesn't add any tint.

Talking about prime purpose of a lip balm, unfortunately it did not help my dry lips. Did not add the amount of hydration my lips need. I tried it in both day time & night time but no much use for me!
Pros:
1. Travel friendly packing.
2. Classy packing makes it a good collectible.
3. Light weight formula glides easily.
4. Doesn't add tint. Can be worn before applying lipstick.
5. Cruelty free
6. Recyclable.
Cons:
1. Fragrance in bothering if you are not a fan of Gulkhand.
2. Doesn't help extreme dry lips.
3. For the quantity & the job it did, I found it pricey.
4. Only key ingredients list is mentioned not the entire list.
Mygirlypedia rating: 1/5.
1 for the packing which I will refill with my favourite lip balm.
Mygirlypedia Note:
1. If you are someone who love collecting lip care products, lip balm with a mirror would make a great collectible.
2. If you have normal lips which doesn't require extra hydration plus if you have the budget you can go for it. If you have dry lips please skip it.
3. Also think about the Gulkhand fragrance before spending your precious money on this one!
Hope this review helps!